No job is too big or too small.
Custom Granite | Quartz | Quartzite Countertops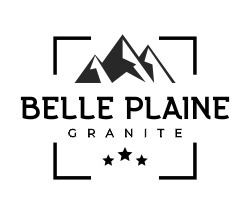 Granite | Quartz | Quartzite
Custom Countertops made to order
Regina, Moose Jaw, Weyburn, Estevan, Swift Current & Yorkton
Belle Plaine Granite is a creative and exciting company. The experience of our staff allows us to bring our valued clients a dynamic range of services. Providing our clients with modern custom countertop solutions all within your budget.
Supplying Saskatchewan with the finest stone fabricated with the latest technology.
We offer tours of our fabrication facility located in Belle Plaine, by appointment only.
Belle Plaine Granite uses the latest fabrication equipment. A combination that involves the best of Italian and North American technology. Proud to make every job a masterpiece.
The use of modern technology. From templating to fabrication to installation. This ensures your job is a perfect fit but also guarantees it is well within your budget.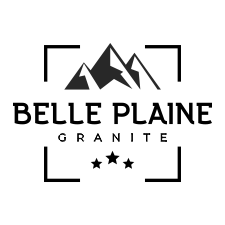 At Belle Plaine Granite it is our goal to provide you with quality stone countertops.
Granite Countertops | Quartz Countertops | Quartzite Countertops
Custom-made Granite, Quartz or Quartzite countertops. Enhance the quality of your kitchen, bathroom, ensuite, or home bar. Even your laundry room can take advantage of a custom stone countertop.
Belle Plaine Granite fabricates and installs custom countertops. Our service area is Regina, Saskatoon, Yorkton, Moose Jaw, Weyburn, and Estevan.
Our clients range from homeowners to business owners. Everybody receives the utmost integrity and quality service. from Belle Plaine Granite.
We pay special attention to detail. We also make sure our customers are always satisfied with our service.
GRANITE COUNTERTOPS
Granite is a natural stone. It forms from the rise of molten magma deep beneath the earth's crust. Many of these stones formed and hardened as the earth cooled billions of years ago.
Granite countertops resist heat so there is no need for hot pads on the counter.
This is a non-porous stone and offers natural protection against mold and mildew.
It is also easy to clean up because this rock will not absorb. The fact that a granite countertop does not need a sealant is an added benefit. Additionally, granite can have its edges beveled and finished in decorative ways. Add elegance to any kitchen.
QUARTZ COUNTERTOPS
Quartz countertops are often called engineered countertops.
Quartz countertops, fabricated from natural silicon dioxide and synthetic materials. Loose quartz makes up about 93 percent of the material. Blended with a binder and pigment and formed into countertops.
Quartz is less prone to denting and chipping because it is more flexible.
Adding a pigment during production means Quartz is available in a much wider range of colors.
Quartz requires very little maintenance. It wipes clean with a damp cloth. Ease of maintenance is the main advantage quartz countertops have.
Quartz countertop can look like natural stone. Such as granite or marble.
QUARTZITE COUNTERTOPS
Quartzite is a hard, non-foliated metamorphic rock which was pure quartz sandstone. Sandstone converts into quartzite. Through heating and pressure usually related to tectonic compression within orogenic belts.
Quartzite is heat resistant. Doesn't scratch or etch like some surfaces can. Being a natural product each slab offers exquisite one-of-a-kind looks.
Give your countertop a personal signature.
Quartzite also comes in an impressive array of colors. Veining that runs soft and subtle to bold and beautiful.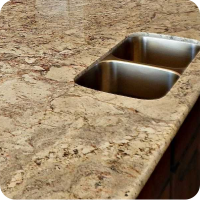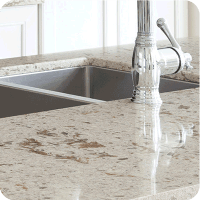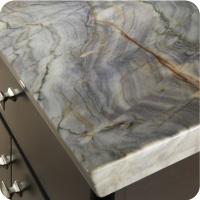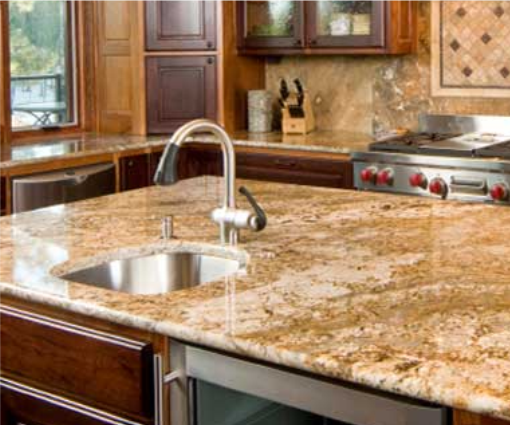 Custom Kitchen Countertops
Looking to add a touch of the outdoors to your home? Then nothing does this better than granite countertops. Considered the material of choice for the elegant kitchen.
Granite countertops, custom made to order for your building or renovation project. Granite can also work for fireplace mantles, basement bars or even desktops.
Before you go to the expense of having new countertops installed. Educate yourself on the pros and cons of granite countertops.
This will help you to decide whether granite has a place in your home.
Custom Stone Bathroom Countertops
Choosing the perfect material for a bathroom countertops is different than a kitchen.
Bathroom surfaces don't suffer the same abuse as those in the kitchen. As well there are no food issues to worry about in the bathroom.
If you are renovating a bathroom or building a new one. You may also want to consider the colour you choose. A countertop might want to match or compliment your shower surface or flooring.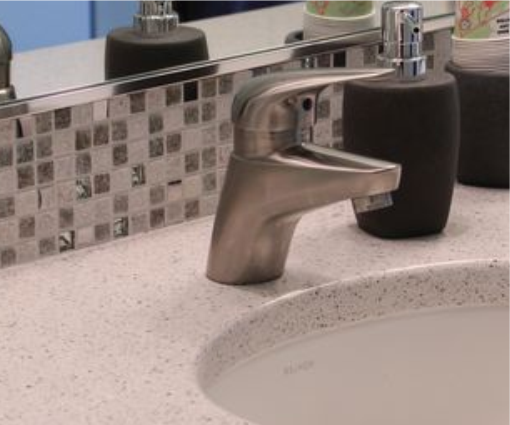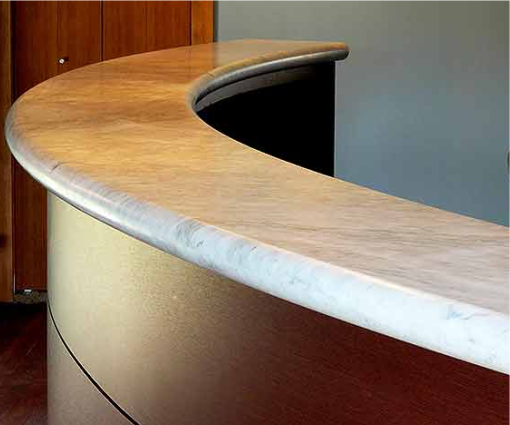 Custom Stone Countertops | For the Office or any situation
Whether you are building your dream home or renovating your existing home. Other areas of your home can
enjoy
the durability and beauty of stone countertops.
Custom bar tops
will add style and elegance to your entertaining areas.
Laundry rooms
can
enjoy
hard surface countertops. Clean, smooth surfaces will prevent any snags on clothes. Make clean up of detergents much easier.
Custom Countertops
GRANITE | QUARTZ | QUARTZITE
COMMERCIAL & RESIDENTIAL COUNTERTOPS
Belle Plaine Granite believes strongly in providing you with a stress-free custom counter-top experience.
We offer superior granite, quartz and quartzite products, with hassle-free installation at a fair price. Our customers are our number one priority.
We strive to continually exceed expectations by keeping the lines of communication open with our customers at all times. Belle Plaine Granite is a custom countertop fabricator. We install what we produce. We service all over southern Saskatchewan. From Estevan to Lumsden and Swift Current to Yorkton.
Our manufacturing plant is located in Belle Plaine, SK,
Your #1 Choice for Custom Countertops
Custom Granite Countertops
Custom Quartz Countertops
Custom Quartzite Countertops
Copyright © 2023| Bell Plaine Granite