Looking for an estimate on new countertops?
Belle Plaine Granite would be happy to help.
If you are building a new home or renovating an existing one A quick estimate can help with your budgeting for your project.
We can help provide an estimate for:
Kitchen Countertops
Kitchen Islands
Bathroom Vanity
Laundry Room Countertops
Fireplace Hearths
Recreation Room Bars
and more
All we need are your measurements and a few details. Please review our instructions below.
*An estimate is different from a quote. If you would like to proceed with a custom order, we will schedule a time to come to your location to accurately measure your countertops with a laser.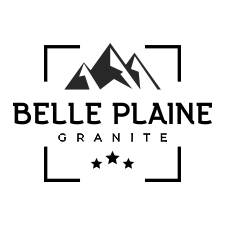 SKETCH CHECKLIST
With pencil and paper, sketch out the basic shape of your kitchen layout and include all related pieces (stove, fridge, island, etc.)
With a pen, mark sink location, refrigerator, and stove and indicate the type of sink (single, double, under-mount or drop-in)
Mark stove location and indicate the type of stove (cook-top, freestanding or slide-in)
Mark with "x" all the exposed edges that will need to be finished. Edges against walls or appliances do not need finishing.
Indicate any area on the plan that may require special attention. Example: Eating Bar, Garbage Disposal Switch, Soap Dispenser, electrical outlets, etc.
ADD THE DETAILS
Using the sketch you have completed. Now is the time to indicate the measurement of each piece in inches. Please be sure to record all measurements as accurately as possible.
Measure the length of the existing cabinets or the existing countertop. Excluding the space that will be occupied by the stove and fridge, or any other areas that will not require a countertop. Sample in red in the image to the left.
If possible, use a highlighter or different colour ink to indicate if you want a backsplash. Note the yellow line on the sample to the left. A Backsplash will not be required behind a refrigerator and sometimes not behind a stove either.
Although your countertop will be measured by a professional prior to fabrication, it is important for you to be as precise as possible in order to obtain an accurate estimate.
Custom Countertops
GRANITE | QUARTZ | QUARTZITE
COMMERCIAL & RESIDENTIAL COUNTERTOPS
Belle Plaine Granite believes strongly in providing you with a stress-free custom counter-top experience.
We offer superior granite, quartz and quartzite products, with hassle-free installation at a fair price. Our customers are our number one priority.
We strive to continually exceed expectations by keeping the lines of communication open with our customers at all times. Belle Plaine Granite is a custom countertop fabricator. We install what we produce. We service all over southern Saskatchewan. From Estevan to Lumsden and Swift Current to Yorkton.
Our manufacturing plant is located in Belle Plaine, SK,
Your #1 Choice for Custom Countertops
Custom Granite Countertops
Custom Quartz Countertops
Custom Quartzite Countertops
Copyright © 2023| Bell Plaine Granite