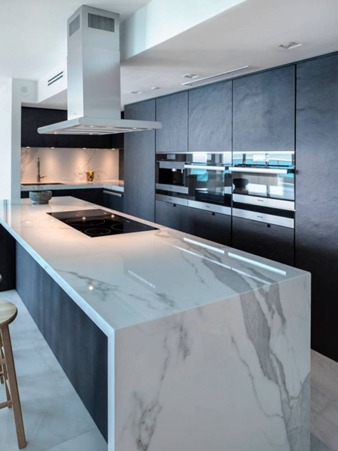 Waterfall Countertops
A waterfall countertop extends down the side of a cabinet. Instead of stopping at the edge of a cabinet or island, tt extend down to the floor on one or two sides of a cabinet or island.
This creates a continuous flow and links the floor to the cabinetry in a fluid and natural manner. The impact that a waterfall countertop has on a kitchen (or a bathroom) changes the look of the room.
Waterfall countertops have a sleek and minimal look. Which makes them a particularly good option for contemporary interiors. Their strong and clean lines would look out of place in a traditional or farmhouse kitchen.
They are hard to ignore in a modern or contemporary bath.
The waterfall design allows you to show off the same material of the countertop. Elevate an ordinary island or cabinet to a whole new level. It's such a simple feature that makes such a big difference to a kitchen or ensuite.