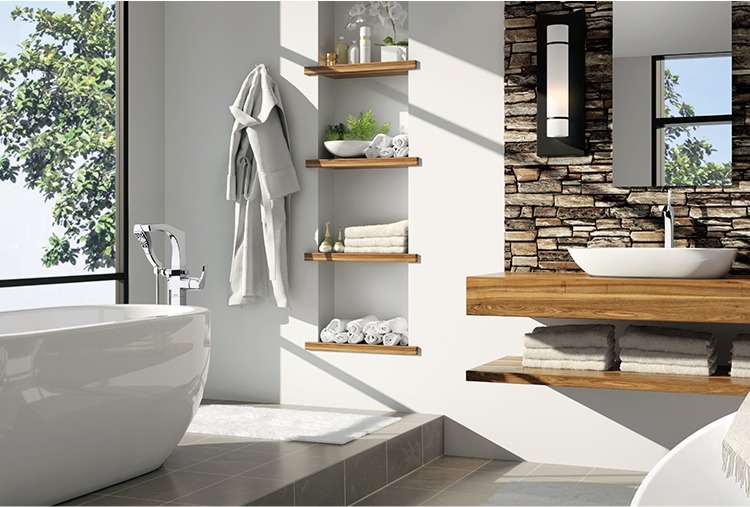 The Spa Bathroom
If you are wondering how to create a spa-like bathroom in a few simple steps, you've come to the right place!
Achieve the bathroom of your dreams. Take cues from the sophistication and timeless appeal of luxury spas and saunas.
Creating a home spa is the perfect way to provide a tranquil retreat. One that promotes good health and well-being while reducing stress.
Not every home has a large master bath, but luxury can come in small packages too.
A solid foundation of beautiful materials sets the tone. When combined with a soothing color scheme. The finishing touches are what pulls it all together. Be sure to engage all your senses by adding scented soaps, bath bombs, sponges, and pretty baskets. It's about finding the perfect balance between materials.
A bathroom spa makeover doesn't need to be a huge undertaking. When you think of a spa, the image that comes to mind is:
fluffy oversized towels
soft candlelight
subtle fragrance and absolute relaxation.
Everything works together. Creating a soothing and harmonious environment. An environment that delights the senses while calming and rejuvenating mind and body.
From design details that include elements such as:
wood,
stone,
glass,
and water.
Asl well as the little things that make such a difference. A scattering of rose petals, natural and organic decor, and the sound of soft music.
Don't forget the trays and baskets filled to the brim with luxurious items meant to pamper.
15 Ways to Create a Resort-Style Bathroom
Remove Clutter: How to organize a bathroom.
Don't Forget About the Countertop: Artfully display luxury items.
Mix in Nature: What plants grow best in a bathroom and how to care for them.
Use Calming Colors: What color scheme works best in a spa-like bathroom.
Get Creative With Storage: How to organize storage in a bathroom
Surround Yourself With Softness: How to create a cozy oasis with textural elements.
Think of Your Plumbing Fixtures as Jewelry: The importance of plumbing fixtures.
Upgrade Your Shower Head: The perfect shower head for a spa bathroom.
Add a Wood Bathtub Tray: How to create a spa-like bathroom with a bathtub tray.
Lay Down a Cedar or Teak Bath Mat: Add spa-like sophistication with cedar and teak.
Add Calming Scents: Using scents to create a calming environment.
Prepare for Pampering: The importance of treating yourself to soothing indulgences.
Display Art: The importance of art in the bathroom.
Lighting & Dimmer Switches: How to create a spa-like bathroom with lighting.
Provide Seating: The small details that make all the difference.